How to Clean Drains in Your Home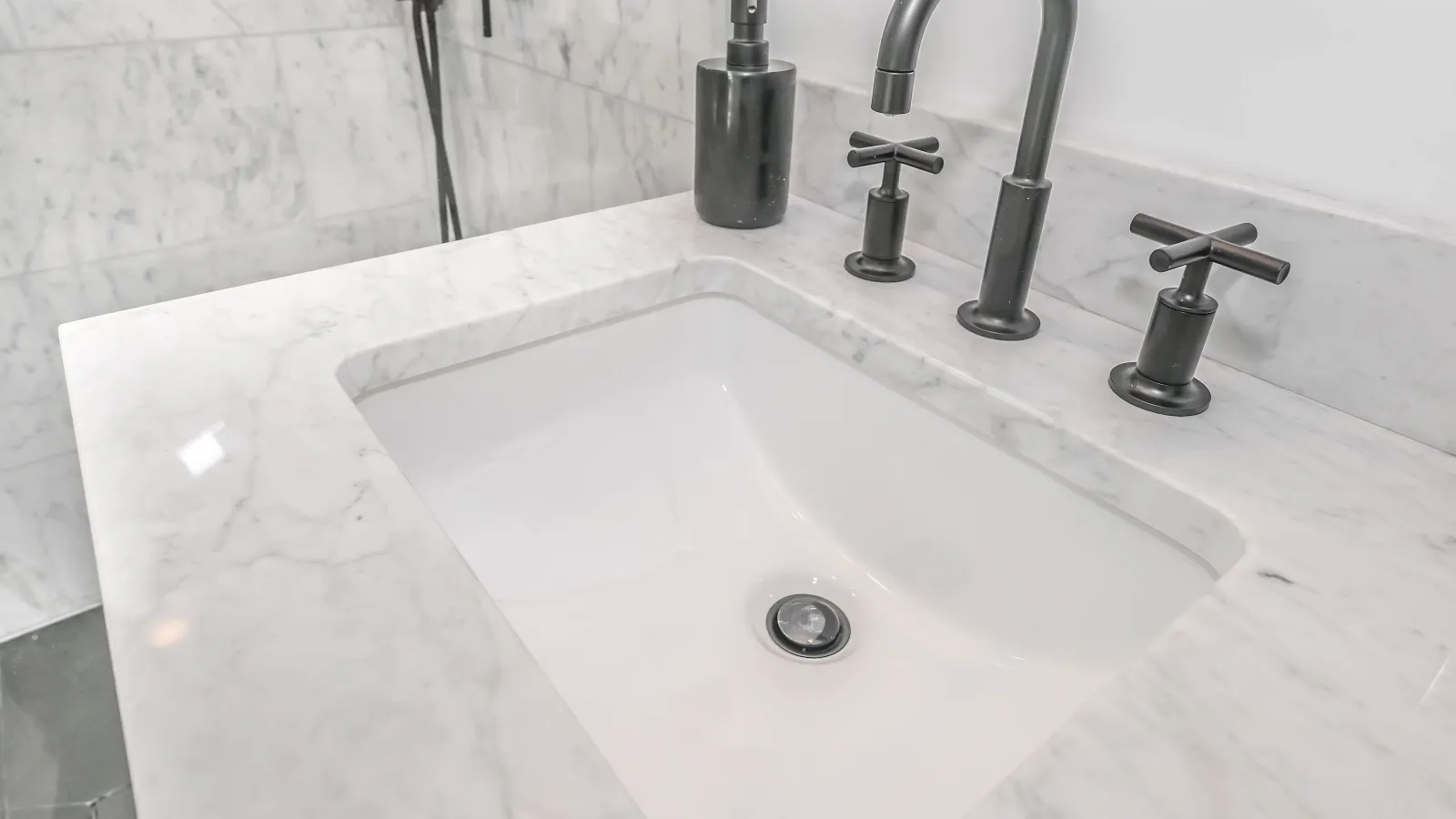 September in Atlanta is an interesting time of year. The weather still feels like summer, yet officially fall and the holidays are around the corner. Yet, one risk remains the same: plumbing clogs! Yes, clogged drains are a common summer and holiday plumbing problem.
How to Clean Drains
Many homeowners fail to realize the difference between clearing a clogged drain and cleaning a clogged drain.
What is drain clearing?
Clearing a clogged drain is a common DIY activity that simply allows the flow of water through a blockage. For example, using a snake or plunger clear clogs in the drain or garbage disposal. Plus, common drain cleaners simply clear the drain (in addition to potentially damaging your pipes). To help, please find a few DIY tips for clearing a clog in the garbage disposal.
Check the garbage disposal.
First, when working on the disposal (or any appliance plugged into an outlet), turn the unit off and unplug it from the electric source.
Next, check to make sure there are no tripped breakers in the fuse box.
Then, attempt to clear the clog by turning the blades manually with an Allen wrench (there should be a hole at the bottom of the disposal).
Of note, this possibly requires many rotations to unjam. If you put your hand down and feel for large hard objects, this helps identify the object jamming the blades. However, proceed with caution as many times turning the blades manually helps dislodge items, which require hand removal.
Finally, plug in the disposal and turn it on (it might need a minute to cool off - if so, press the reset button on the bottom and try again).
Plunge.
To unclog the drain, attempt to remove the substance that is causing the backup using a plunger.
In order to plunge correctly, partially fill the sink with water and work the plunger up/down to break up the clog.
Remove waste as it comes into the sink and focus on the upstroke - catch the waste before it goes back down the drain.
Do not plunge the sink if you tried a commercial drain cleaner. Allow the drain cleaner to work through the sink because the chemicals are dangerous if they touch your skin while plunging the sink. In general using chemicals can do more harm than good on the drain pipes. We highly recommend not using drain cleaner!
What is drain cleaning?
Cleaning a drain goes beyond simply clearing a drain. Drain cleaning utilizes a high pressure water blasting machine that completely removes a blockage. Also, professional grade drain cleaning services leverage video equipment, which identifies the core problem of the blockage. Additionally, drain cleaning eliminates build up of certain materials within your pipes such as:
soap scum.
mineral deposits.
hair.
Finally, drain cleaning offers a permanent solution (while drain clearing provides quick, but temporary relief). Plus, maintaining the drains in your home provides an array of benefits, such as:
Reduces potentially hazardous blockages.
Removes possible odors derived from sewage.
Prevents corrosion in your pipes by removing mineral or chemical deposits.
For example, sewage contamination presents a unique risk. Any potentially damage impacts your home's structure, flooring, electrical components. Plus, sewage contamination provides a real health hazard. Although 100% clogged drains remain unavoidable, performing an annual maintenance and inspection of your drains helps prevent plumbing emergencies.
How can Snappy help?
There's probably no more unwelcome or unpleasant home plumbing mishap than a clogged drain or blocked sewer. The damages of a collapsed or root filled drain line can cause significant damage to your home and personal belongings.
At Snappy, our plumbers and drain cleaners are licensed, certified, bonded and insured. We take pride in our professional, which means our team carries the most up-to-date equipment and tools to overcome the toughest jobs. Plus, once we get you back up and draining, we inspect your drain with a camera. This step in our process helps ensure no residual issues remain that would potentially cause a repeat blockage. If so, we can pinpoint the issue with our sonar locating equipment. When you think drain cleaning, think of Snappy, here to help you 24/7 night or day, and holidays too!
Plus, with our Home Protection Plan our plumbers will perform annual inspection and routine drain maintenance when needed. We can also provide advice on other options that can reduce the chances of having a drain disaster in your home.
*$75 Off Any Electrical, Plumbing or HVAC Repair (Cannot be combined with any other offer or used for past purchases)
Snappy Services offers expert drain and sewer repair, replacement, and clogged drain repair to all of our local services. Call us at 888-750-5943 to schedule an appointment or request service online.