Protect Your Home With These Easy Halloween Decorations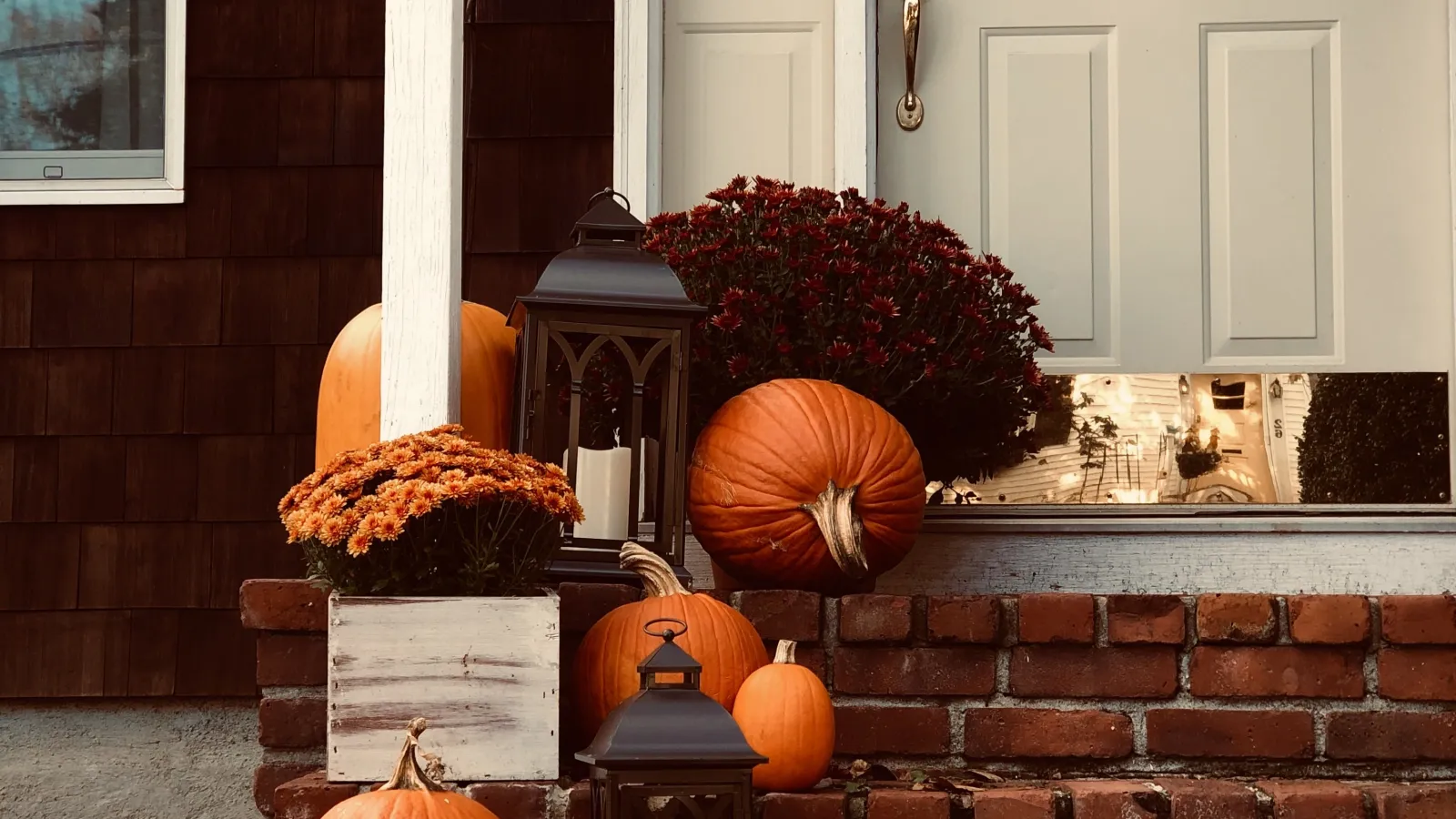 Halloween is just around the corner and from pumpkins on porches to witches in windows, finding easy Halloween decorations that are fun, while protecting your home from those fright night mischief-makers can be difficult.
Are you going for an all-out, leave 'em screaming haunted house?
Or is your style more fun to spread some giggle among your guests?
Whichever type of Halloween decor you and your family are leaning toward, there is a way to make those dreams come true. Have no fear, here are some easy Halloween decorations that meet your needs!
Easy Halloween Decorations for Your Home
Pumpkins
Kids of all ages love decorating pumpkins. It's one of those activities that screams Halloween. However, not everyone is into carving pumpkins.
For those who prefer their pumpkins be left whole, here is a great list of ways to decorate your pumpkin without carving it up. From using Mr. Potato Head pieces to wet tissue paper or masking tape (to make those mummy pumpkins!), there are some never-fail alternatives to carving!
Delightful Doors
The first thing trick-or-treaters will notice about your home is the door. The way in which you decorate it will give the little monsters a clue as to what kind of Halloween friend or foe you are!
From the time-tested and welcoming corn stalks and scarecrows to the always reliable spiderwebs and spiders or the screaming-eliciting person waiting in a gorilla suit to jump up and scare the kids, there is always a nuance to make your home feel special.
If you want to try something a little different this year why not try turning your door into a monster?
Want something a little scarier? Try this zombie door using reclaimed wood.
Monster Mayhem
One of the simplest and easy Halloween decorations is setting up a few scarecrows and pumpkins by the front door. But do you want a little more Halloween spirit without much effort?
A simple gem is taking used toilet paper rolls, cutting eyes into them, stick a cracked glow stick inside, hide them in the bushes, and wait for the screams!
Or try the fake skeleton by digging up a small part of your yard, string it off with some caution tape, and partially bury the skeleton. Not a fan of digging, then fill a wheelbarrow with dirt and toss the bones in there!
Lighting to Protect Your Home
Although most people, kids, teens, and adults, love Halloween, there are simply some troublemakers out there.
If you're not going to be home, or you just want to take some extra precautions, use lighting to deter any mischief-makers in your neighborhood from getting at your home.
If someone might see them causing problems, they may be less likely to follow through. To help, try these fun lighting ideas to keep your home safe and stay in Halloween spirit!
Simple Halloween Snacks
Halloween Party Snacks
If you're throwing a Halloween party, whether it's for kids or adults, you need Halloween themed snacks! If you have a specific theme, try matching your treats.
Harry Potter party? Go for butterbeer, cauldron cakes, and pumpkin pasties!
Do you have a creepy, crawly theme going? Make some chocolate and pretzel spider webs, gummy worms, and spider cupcakes!
Is your party going to be monstrous? Serve vampire milkshakes, witchy cupcake cones, and mummy dogs!
Are you dressing up as the classic witch? Serve up a sundae bar that is sure to make your guests scream! Set out your witch's slime (green ice cream) rotten teeth (candy corn) warts (chocolate chips) spider legs (chocolate jimmies) and melted earwax (caramel sauce) and enjoy!
Halloween Goodies for Trick-or-Treaters
If you're feeling creative this Halloween and you don't feel much like tossing candy bars into the kids' bags this year, why not try making goodie bags and fun treats instead!
Here is a fun goodie bag kids are sure to love. Fill an orange balloon with small wrapped candies, blow up the balloon, tie it off, add a face and fake leaves, and you have a goodie bag kids have to pop in order to enjoy!
Want to try something that no one else is doing? Make scarecrow goodie bags!
Turn lollipops into ghosts with tissue paper, googly eyes, and ribbon!
Make spiders by twisting four black pipe cleaners around the bottom of a tootsie pop, bend them like legs, add googly eyes, and you have a spider pop!
Are you having a party and want the kids to go home with something other than candy? Send them home with these slime-making kits!