What Is A Programmable Thermostat?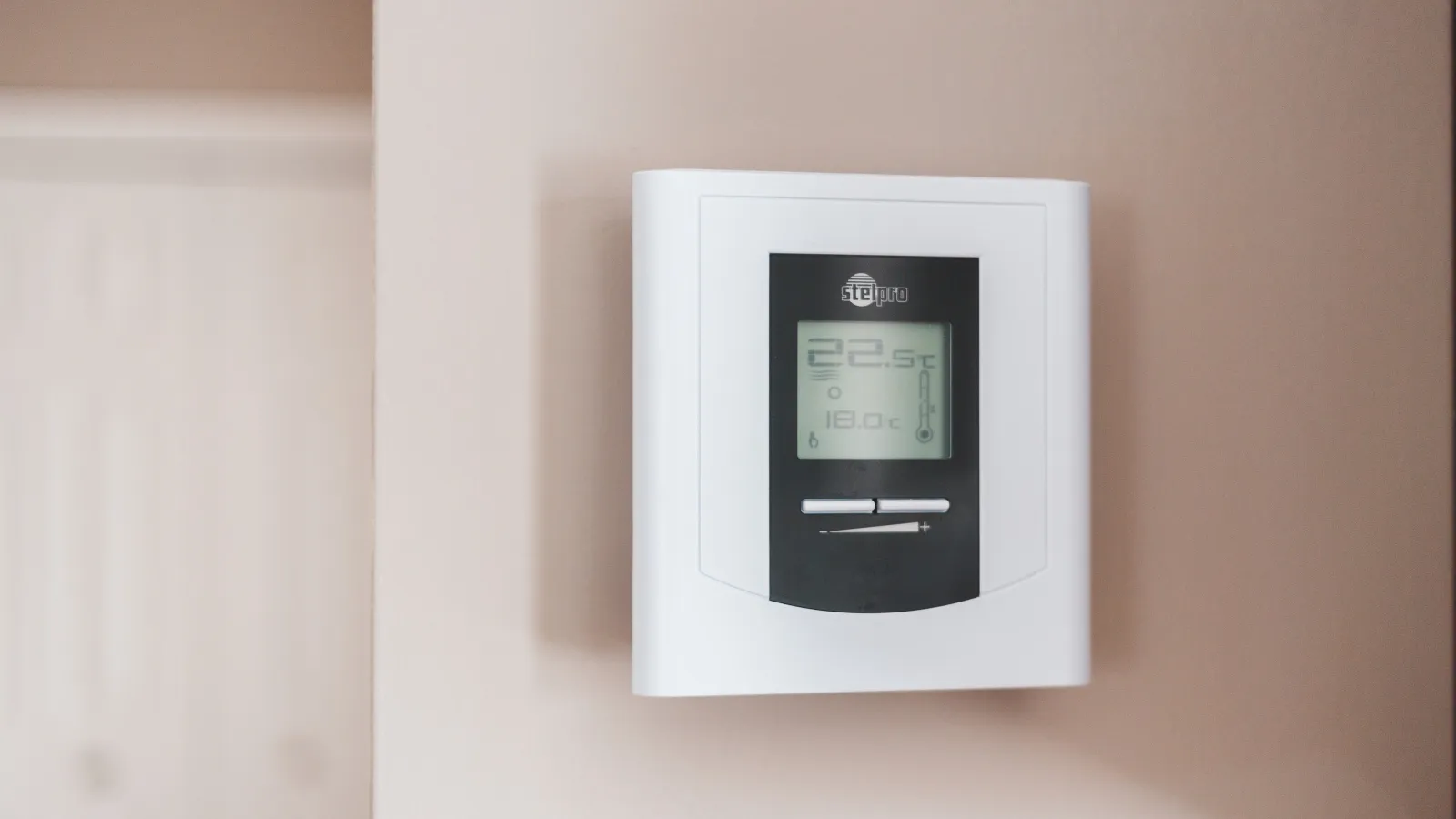 Definition of Programmable Thermostat
A programmable thermostat is a type of thermostat that lets homeowners create programmed settings that adjust the temperature of their home. A programmable thermostat basically lets homeowners customize the run times of their furnace, based on their lifestyle, in order to save energy and create a more comfortable living environment.
How A Programmable Thermostat Works
A programmable thermostat works by taking the programs set up by the homeowner and running them at specific times and days. For example, if you know that you are going to be out of the house for work Monday through Friday from 8am-6pm, you might want to turn the temperature of your home down in order to cut back on energy usage. You may also want to turn down the heat overnight while you are sleeping, in order to get a more fitful rest. If you know you're going to wake up around 6am, you can program your thermostat to turn on an hour or so ahead of time in order to make your home a more comfortable temperature for showering and dressing.
A programmable thermostat not only lets you choose the days and times you want your furnace to run, but it also allows you to set the temperature you want your home to reach as well. Learning thermostats (also known as smart thermostats) are growing in popularity and work by learning occupants' habits and adjusting temperatures accordingly. They can also account for and adjust for days that are particularly cold or hot.
Examples of Programmable Thermostats
Programmable thermostats are compatible with several different types of heating systems, including forced air, electric, and boiler or radiant heat. A programmable thermostat allows you to set the temperature for the entire house, a single room, or zones, depending on the type installed and the way your heating system is set up.
There are a few different types of programmable thermostats, which include hardwired, wireless, WiFi-enabled, and learning thermostats. Some popular brands of programmable thermostats you may be familiar with include Honeywell, Nest, and White-Rodgers.
Benefits of Programmable Thermostats
There are several advantages to installing a programmable thermostat in your home. First, it allows your home to be kept at a comfortable temperature throughout the day without the need for manual adjustments. The second major benefit of installing a programmable thermostat is that it can help to reduce energy consumption -- which often translates into lower energy bills. Setting up effective programs for your thermostat means that you aren't paying for wasted heat when you aren't home. Professionals note that for each degree of temperature reduction, energy use is reduced by 1%. This means that if you lower the temperature by 10 degrees while you're at work, you'll be saving 10% on your energy consumption. This can really add up over a year, depending on your individual situation.
Other pros of programmable thermostats include wireless models in case you don't want to rewire your home or have other special installation needs; optional vacation scheduling for when you know you'll be away; WiFi-enabled models that allow homeowners to set and change programs remotely; and the ability to override the program if necessary when you're home.
One disadvantage of wireless models is that they will require battery changes. Installing a hardwired unit requires some electrical experience. The process can be a bit messy if you need to run new wiring or drill into the wall.
Costs of Programmable Thermostats
The costs of programmable thermostats can vary widely, depending on the style and types of features desired. You can purchase a programmable thermostat for as little as $20, while some newer smart programmable thermostats can be priced as high as $500 or more. Energy Star estimates that homeowners can save $180 on average per year with a properly set programmable thermostat -- meaning that your investment quickly pays for itself.
Choosing A Programmable Thermostat
When it comes to picking the best programmable thermostat for your home, there are several features to consider:
Ease of use: You want to be able to set and adjust the programs without hassle.
Compatibility: Is the unit compatible with your furnace? Does it provide a whole house, a single room, or zoned heating? Wired or wireless?
Programs: Different models allow you to set one or more programs per day. Plus, most operate on a 7-day week, sometimes split 5-2 or 5-1-1. However, some units can work on longer schedules and offer more daily programming options should you require them.
Accuracy: Look for models that are accurate to within 1 degrees or better, which ensures home comfort and maximizes energy savings.
WiFi-enabled: Being able to set or edit programs remotely is a nice feature to have. This way you can warm up the house if you're going to be home from work early one night. Conversely, keep the temp lower if your flight home from vacation is unexpectedly delayed.
Backligh: A backlit programmable thermostat is easier to read and make adjustments to in all kinds of lighting conditions.
DST ready: This automatically switches your thermostat over for Daylight Saving Time so you don't have to.
Ultimately, a programmable thermostat can save you both energy and money and is a smart investment for any home. Not sure how to select or install the best programmable thermostat for your family's needs? Contact a qualified HVAC professional near you.